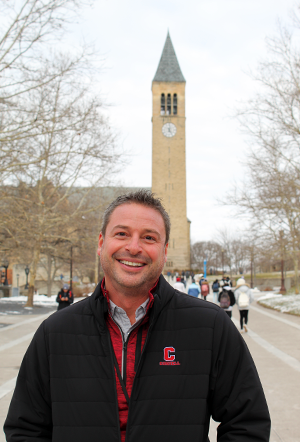 David Reetz, PhD, joined Cornell Health as Director of Counseling and Psychological Services (CAPS) in December, 2022. This conversation took place during his first 30 days at Cornell Health. 
Q. Why did you choose to work in college mental health?
A. "Higher education opened my mind and access to the world in a way I did not imagine. Combined with an innate interest in psychology and human development, collegiate mental health represents a perfect marriage of my fundamental values and interests. I am inspired by significant life transitions and how humans evolve and adapt in the face of change. For many, the transition from childhood to adulthood and career development represent the third most significant life transition (only slightly less challenging than birth and death), with endless excitement, challenge, and discovery. It truly is a joy and privilege to work alongside students and colleagues through this complex and wonderful time of life."
Q. You joined Cornell in December. What are you most eager to see and do?
A. "Given the timing of my arrival, I haven't yet left work in the daylight, so I am looking forward to seeing the spring campus bloom during the walk to my car! I am excited to explore the 20+ campus libraries and the many campus eateries, especially the 10 dining rooms. I hope to accomplish this goal by the end of my first year. Lastly, I could not be more excited to climb the 161 steps of McGraw Tower and take in my first Cornell Chimes concert up close. Then I will need to figure out how to request "Mr. Brightside" for all to enjoy." 
Q. What activities support your personal well-being?
A. "I laugh a lot, able to find humor and irony in many day-to-day experiences. The work we do at the intersection of higher education and mental health can be quite heavy and serious at times. I enjoy standup comedy and often find myself crafting a concept for my "Tight Ten" opening routine. As a mental health professional, I also value preventative care. I love to de-stress by exploring trails, the local restaurant scene & live music venues."   
Q. What's one fun fact about you?  
A. "My hometown, Sheboygan, Wisconsin, is The Bratwurst Capital of the World"!"         
Q. What's one unique mental health support Cornell offers?
A. "Research in Environmental Psychology has well-established the connection between exposure to natural scenery and a calm, relaxed state. Therefore, Cornell's stunning geographic home has played, in part, a role in the longstanding success and sustainability of the students and staff who have sat atop Llenroc stairs and watched the sun and stars over Cayuga Lake. This is a special place. I'm thrilled to see Cornell's Nature Rx program was designed to get students, staff, and faculty out in nature. The beautiful Cornell landscape naturally supports a Health-Promoting Campus."
Q. What are some of priorities for your first year?
A. "Collegiate mental health perpetually evolves. As mental health services at Cornell inevitably evolve, it is my priority to direct resources toward the supporting our diverse student body and the learning environments that intimately define the University. In my first year, I will be diligent in learning the academic structure and building partnerships across campus to establish new pathways that expand our reach and impact on student success and wellbeing. Collegiate mental health providers are practitioner-educators and can significantly contribute insights and advance a culture of well-being. Read more about the CAPS Community Liaisons who provide targeted outreach related to mental health at Cornell."
Q. How can students connect with you and the CAPS team?
A. "We have deliberately created a variety of avenues students can take to connect with the Counseling and Psychological Services (CAPS) clinical team. (See CAPS staff bios.) Our services include informal drop-in sessions, workshops, individual and group counseling, and more.
Students can schedule an initial "Access Appointment" that will determine their service(s) need and level of care by calling 607-255-5155 during business hours. Students may also log into myCornellHealth using their Cornell NetID and password, and select "Appointments" to schedule. Students may also attend an informal drop-in consultation with a CAPS clinician to determine if counseling is a good fit or for a brief consultation with a provider. These "Let's Talk" sessions do not require an appointment. (See schedule.) For urgent mental health needs during and outside of business hours, students may call 607-255-5155 to consult with a mental health provider. Read more about Mental Health Care offered at Cornell Health. For additional information about campus mental health initiatives and support for well-being, visit Mental Health at Cornell."
See also: