Staff Picture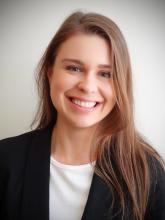 Alesya Nazarova
Degree/Certifications
PsyD
Postdoctoral Resident
Alesya didn't immediately think about becoming a psychologist, but she's always been fascinated by the human condition and tried to approach it from different angles. She studied linguistics in college as she was interested in the way we organize our reality through words, the way we speak ourselves into being. Through the confluence of chance and choice, Alesya moved to California and took classes in anthropology followed by a research assistantship in neuroscience. Eventually, she realized that not only did she want to do research and learn about theories, but also to apply research and theories to real life and have a sense that what she is doing actually serves others, making a difference. This led her to enter a doctoral program in clinical psychology at The George Washington University, which she completed in August, 2018.
Influenced by existential thinkers and writers early in life, Alesya has been powerfully drawn to the existential and psychodynamic sensibilities in her clinical approach. These theoretical perspectives provide a conceptual filter for making sense of the complexities of human nature and guide her therapeutic interventions. She also has a strong interest in trauma work and strives to integrate neuroscience research and trauma treatment modalities into psychotherapy. What she enjoys most about therapy is that it provides a space for the exchange of truth, for an honest conversation about what matters most to people in their quest for meaning, purpose, love, belonging, and wellbeing.
Alesya's life has been a process of self-discovery and discovery of others, and the discovery of what this is all about. The more she learns about herself, the more she is able to learn about others, and the more she learns about others, the more she is able to understand herself. To this end, she engages in activities that allow her to know herself and others better. She enjoys meditation, yoga, reading literature, poetry, history, and actively seeks out inspiration in conversation, nature, art, architecture, and music.
Affiliations
Affiliations
Counseling & Psychological Services (CAPS)
Let's Talk
Location
Level 3
Contact Information