Staff Picture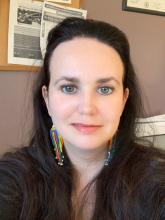 Anastasia Zyuban
Degree/Certifications
PhD
International Identity Focus Counselor
Certifications/Degrees/Licensure:    
Licensed to practice psychology in the State of New York #020464
Certified by the American Board of Professional Psychology, Clinical Psychology (ABPP-CP)
Education:    
Long Island University,  PhD, Clinical Psychology, September 2012
La Salle University, Master of Arts, Clinical Counseling Psychology, May 2007 Concentration: Marital and Family Therapy (MFT)
Kaliningrad State University (now Russian State University of Immanuel Kant), Kaliningrad, Russia Psychologist / Teacher of Psychology Diploma, MA, clinical psychology May 2005
Can provide care or assistance in the following languages: English and Russian
Professional interests:

Anastasia was born and raised in Russia and is a first-generation Russian-American whose first language is Russian. She has been through the process and faced the challenges of being an international student from a country that views seeking mental health help as taboo. She would really like to connect with international students and share strategies that helped her succeed.
Anastasia is a Licensed and Board-certified Clinical Psychologist with over 9 years of experience working as a psychotherapist. She has worked with individuals with a wide range of concerns including depression, anxiety, relationship and intimacy issues, drug, alcohol and process addiction and PTSD. She has also been fortunate to serve as a LGBTQ+ Veteran care coordinator at the VA medical center. In this role, Anastasia provided psychological evaluations of Transgender Veteran's readiness to start hormone treatment and provided LGBTQ+ affirmative psychotherapy.
Anastasia's counseling style is warm and interactive. She believes in treating everyone with respect, sensitivity, and compassion, and does not believe in stigmatizing labels. When you are in a therapy space with her, you will feel completely and unconditionally accepted, valued and heard.
Personal interests:
Anastasia loves and has professional training in belly dancing. She is addicted to horror movies (has seen every exorcism movie that was available in both U.S. and other countries, and is always looking for new suggestions). She also has a YouTube channel focused on education about depression and anxiety.
Preferred pronouns: She/Her/Hers
Affiliations
Affiliations
Counseling & Psychological Services (CAPS)
Location
Contact Information