Staff Picture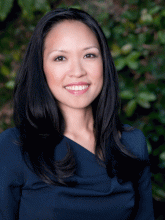 Ginger Villareal Armas
Degree/Certifications
PhD
Psychologist
Ginger (she/her/hers) is a second generation Pilipinx American, who has lived and travelled in different countries and domestic cities. As one of the only Asian American teenagers residing in a tiny Tennessean town, she developed an early awareness of discrimination, pain, loss, and change. Throughout her life, she has sought opportunities for learning how to manage daily dilemmas and existential stressors. While studying abroad as an undergraduate in Oxford, England, she participated in her first silent meditation retreat with mindfulness master Thich Nhat Hanh. She later had the opportunity to study mindfulness more extensively at his community in France and at a professional training with Dr. Jon Kabat-Zinn.
While working at the University of California, San Diego, Ginger developed a "Sustainable Activism Workshop Series" for use with student groups. In 2017, the Organization of Counseling Center Directors in Higher Education recognized her workshop with a Social Justice Impact Award. Ginger looks forward to sharing the concepts of "sustainable activism" with new groups of students committed to being advocates of social justice.  
A recent addition to the counseling and psychiatry team at Cornell Health, Ginger is excited to work with Cornell students and to destigmatize matters of mental health.
When not working with students, Ginger enjoys:  
1. rummaging through stacks of sales and reading books in an effort to appease her bibliophilic urges,
2. appreciating artists through seeing drag, live music, theater, and films,
3. chatting, dancing, and/or laughing with loved ones, including her ridiculously adorable puppy, "Love" and her cuddly kittycat "Phoenix",
4. and making lists (much like this one).
Languages Spoken:
English and Tagalog
Affiliations
Affiliations
Counseling & Psychiatry
Let's Talk
Location
Level 3
Contact Information