Staff Picture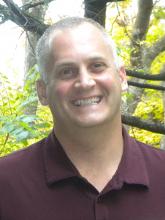 Greg Eells
Degree/Certifications
PhD
Director of Counseling and Psychological Services
Oklahoma State University, 1996 
Interests: Depression, anxiety, relationship issues, and existential issues; group therapy
Greg earned a Ph.D. in counseling psychology from Oklahoma State University and is a NYS-licensed clinical psychologist. He has worked in higher education mental health for more than 15 years and has served as a director of a university counseling service for the past more than 13 years.
He is the Director of Counseling and Psychological Services for Cornell Health. He provides broader oversight for the FSAP and provides leadership for all campus mental health services. He works in collaboration with health care providers, administrators, and faculty and staff leaders in providing a comprehensive, unified approach to supporting the health and wellbeing of the campus community.
Greg regularly publishes articles in scholarly journals and presents at national and international conferences. His areas of interest include leadership, staff morale, mental health delivery systems, and providing care to challenging clients. 
He is a member of various professional organizations and is the past president of the Association for University College Counseling Center Directors.
Affiliations
Affiliations
Administration (Senior)
Counseling & Psychiatry
Patient Advocate
Location
Level 5
Contact Information