Staff Picture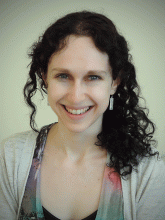 Jennie Bernstein
Degree/Certifications
PsyD
Clinical Psychologist / Body Positive Outreach Coordinator
Education:
University of Hartford, PsyD (Doctorate in Clinical Psychology)

Vassar College, BA in Psychology
Professional interests: Cognitive Behavioral Therapy (CBT), treatment of obsessive-compulsive disorder, phobias, and other anxiety disorders, incorporation of mindfulness-based interventions, body image. Jennie uses Exposure and Response Prevention (ERP), which is an evidence-based treatment, for OCD. Jennie is incredibly passionate about helping people to better understand OCD and anxiety disorders and teaching them to use evidence-based strategies (which can often seem counterintuitive) in order to feel more empowered.
Jennie grew up in Rochester, NY. She decided that she wanted to study psychology when she was still in high school and enjoyed her psychology textbook to the point that she would read passages from it to her friends (who were kind enough to put up with this). She completed her doctoral training at the University of Hartford in Connecticut. During that time, Jennie had the opportunity to work at several counseling centers and to receive training at the Anxiety Disorders Center at the Institute of Living. She completed her pre-doctoral internship at UNC Chapel Hill's counseling center and her postdoctoral residency here at Cornell Health.
Jennie also coordinates Body Positive Cornell (BPC), which is a peer-facilitated program offering weekly discussion groups. BPC is a supportive community that offers empirically-based and weight-neutral information about health, challenges discrimination based on size and appearance, promotes effective self-care, and helps students foster increased body appreciation.  
When she isn't working, Jennie enjoys spending time with loved ones, crafting, music (singing, playing piano, ukulele), cross stitch, reading, Netflix marathons, playing Nintendo games, and cuddling her extremely friendly cat.
Affiliations
Affiliations
Counseling & Psychological Services (CAPS)
Location
Level 7
Contact Information