Staff Picture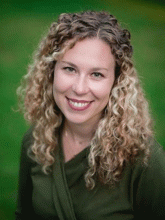 Katrina Blomquist
Degree/Certifications
PhD
Psychologist
Katrina Blomquist is a licensed clinical psychologist and cognitive behavioral therapist (CBT). She spent her undergraduate years at Cornell ('04), majoring in Human Development and exploring the nooks and crannies of Cornell's beautiful campus. She knew she wanted to be a psychologist and after getting a taste of clinical work at Massachusetts General Hospital as a research assistant, there was no turning back!

Katrina completed her Ph.D. at Duke University, where she was able to meld her interests in developmental and clinical psychology. She worked in a variety of clinical settings, from mood and anxiety clinics to trauma centers to hospitals treating clients with eating disorders. The world of social relationships has always fascinated her and her research focused on peer relationships. Katrina's master's thesis and dissertation examined the forms and functions of cross-sex friendships and the intricacies of jealousy triangles among college students.

Katrina completed her training at the University of Washington/Seattle Children's Hospital and stayed in Seattle for post-doc, specializing in anxiety disorders. Helping young adults understand and triumph over anxiety, especially obsessive compulsive disorder, is a particular interest of hers.

Katrina is thrilled to be back in Ithaca working with the Cornell community! When she's not working, Katrina enjoys playing volleyball, skiing, and baking. She can't resist a cute dog or a trip to the beach.
Affiliations
Affiliations
Counseling & Psychological Services (CAPS)
Let's Talk
Location
Level 3
Contact Information