Staff Picture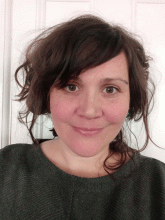 Kimberly Cuddy
Degree/Certifications
PsyD
Clinical Psychologist
Certifications/Degrees/Licensure:    
BA Women Studies/Ethnic Studies/Creative Writing, San Francisco State University
PsyD Clinical Psychology, California Institute of Integral Studies (CIIS)
Working on NYS clinical psychologist licensure
Professional interests: Kim's dissertation focused on mental health during the unfolding climate crisis, and she's interested in supporting students as they grapple with the complex emotions and existential questions we face on our changing planet at this time. She enjoys working with and supporting students overcoming barriers to education, including first generation college students, and students living with chronic health and mental health issues – as well as student social justice activists and artists.  
Personal interests: When away from work, Kim is interested in mindfulness/meditation, vegetarian cooking, expressive arts, cultural history and storytelling, and outside adventures: exploring nature, walking her dog, and digging in the garden. She completed her predoctoral internship at the C.G. Jung Institute in San Francisco, which instilled a deep appreciation for symbols, creativity, and play - and their relationship to self discovery and change. Kim grew up in upstate NY, but lived on the West Coast for half of her life - she enjoys returning to visit when she can! 
Affiliations
Affiliations
Counseling & Psychological Services (CAPS)
Location
Contact Information