Staff Picture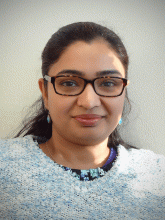 Lavanya Devdas
Degree/Certifications
PhD
Psychologist
Lehigh University, 2015
Interests: Social justice, advocacy, multiculturalism, intersecting identities and identity development, anxiety, depression, substance use, relationship concerns, acculturation, and transitional challenges.
Lavanya was born in India, and her communal values and collectivistic preferences stem from growing up in family system of parents, grandparents, uncles and aunts and their respective children. Early on, Lavanya was spatially challenged from having to frequently seek out one of her eight or nine cousins, or one of her aunts and uncles, or grandparents. After completing her masters in social work, she tried dabbling by working in low SES neighborhoods, and hospital settings in India. Through the course of her dabbling, she imbibed counseling and assessment skills, and practiced working with a systemic lens. She decided to venture to the U.S. and completed her doctorate in counseling psychology from Lehigh University, in Bethlehem, PA. Through the systemic lens, she developed an integrative orientation towards working with individuals and groups, and marginalized populations, depending on their unique needs. In fact, she was so attached to her integrative 'lens' that she had to wear 'glasses.' She did her internship at Suffolk University, Boston, MA and completed her post-doctoral fellowship at Princeton University, NJ.
Her current interests continue to be working with the student population, their interactions with the environment, their unique familial and cultural experiences, and how the aforementioned shape their experiences of anxiety, depression, identity development, relationships, self-esteem, acculturation and transitional challenges.
Affiliations
Affiliations
Community Consultation & Intervention (CCI)
Counseling & Psychiatry
Let's Talk
Location
Level 5
Contact Information