Staff Picture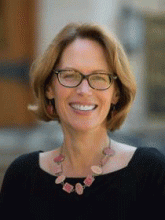 Sharon McMullen
Degree/Certifications
RN, MPH, FACHA
Assistant Vice President of Student & Campus Life for Health and Wellbeing
Education:    
Masters of Public Health, University of Pennsylvania
Bachelors in the Science of Nursing, Thomas Jefferson University
Bachelors of Arts in English, Saint Joseph's University
Professional interests:
Some of my college health interests include vaccines for the common good, the power of policy to shape wellbeing, and leveraging data to improve the health of the population. I love the academic schedule, with its distinct seasons, and also the academic population that regenerates every couple of years. Most of all, I love the people who choose to share their skills and talents in this critically important, but mostly under-appreciated, subcategory of health and wellbeing work.
Personal interests:
While my husband, Pat, and I enjoy batch cooking on the weekends, we really like to go out to eat. We're not foodies per se, and our favorite types of restaurants are Italian and seafood. Do you have a restaurant recommendation for us? Please email me with any and all suggestions.
Affiliations
Location
Level 6
Contact Information