Staff Picture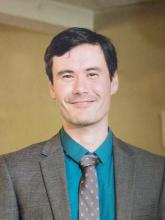 Thaddeus (Ted) Bates
Degree/Certifications
LMSW
Clinical Social Worker
Education:
Binghamton University, Master of Social Work
SUNY Geneseo, Bachelor of Art, English
What Thaddeus enjoys most about counseling, in the words of Diana Fosha, are opportunities to undo "unbearable aloneness." He is very curious about individuals and their stories. Prior to working with the Cornell community, Thaddeus worked at the Suicide Prevention & Crisis Service in Ithaca. Training in experiential and relational therapies has been a great source of inspiration for him. Thaddeus also has experience with cognitive and solution-focused therapies. He is particularly interested in anxiety, depression, grief, and multiracial identity.
Outside of work, Thaddeus enjoys practicing meditation, jogging, film, gaming, and cats. He also likes to travel, and hopes to spend more time with his brother, who relocated to Denmark.
Affiliations
Affiliations
Faculty and Staff Assistance Program
Location
312 College Avenue
Contact Information