Staff Picture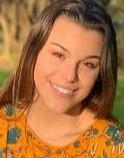 Skylar Dawson
Pharmacy Technician, Per Diem
Education:
Currently enrolled at Onondaga Community College
Professional interests:
Skylar enjoys helping patients and cares about their needs. She also enjoys working in a fast paced environment such as Cornell Health.
Personal interests:
When away from work, Skylar enjoys outdoor activities such as hiking, walking the gorges, and watching football games. She also loves to learn new things and test her strengths, as well as her weaknesses.
Preferred pronouns: She/her
Affiliations
Location
Level 4
Contact Information