Cornell Health provides primary care services for all students on Cornell's Ithaca campus. [see Who We Serve]
"Primary care" is defined as the provision of general and continuing medical care for patients within a healthcare system designed to serve a community. This approach to healthcare is aligned with a university environment, where an individual's needs are integrated and require coordination with specialty care or community resources. Students benefit from a patient-centered, collaborative, and team-based approach because they can get the resources they need to find health and thrive. Population health research has demonstrated the benefit of this approach to our systems and communities by increasing quality and decreasing cost (learn more about primary care).
At Cornell Health, we use a primary care model that addresses the whole-person – their physical, emotional, psychological and spiritual well-being, as well as cultural, linguistic, and social needs – using appropriate clinical and supportive services that include acute, chronic, and preventive care, behavioral and mental health, health promotion, and public health.
Every student needs a home base in Ithaca to meet their health care needs and goals, and that's what they find at Cornell Health. We are not just a medical office: we are partners in healthcare with our students. We are certified by the Accreditation Association for Ambulatory Health Care (AAAHC) as a "Patient Centered Medical Home." Our model of health care delivery is designed to increase Cornell students' access to and appropriate utilization of the comprehensive, patient-centered, health care and wellness resources that support their academic and life experience.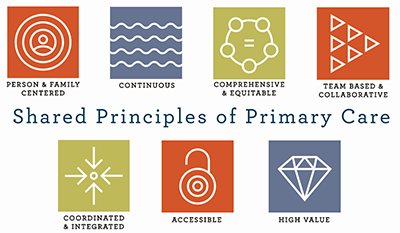 Image credit: Patient-Centered Primary Care Collaborative
Your Primary Care Provider at Cornell Health
Each Cornell student is assigned a Primary Care Provider (PCP) who will oversee your medical care and help support your health throughout your time at Cornell. When you need an appointment with a medical clinician, we recommend scheduling with your PCP whenever possible.
All of the PCPs at Cornell Health are credentialed medical clinicians – physicians (MDs, DOs), nurse practitioners (NPs), and physician assistants (PAs) – with outstanding educational and professional backgrounds and a passion for working with college students. PCPS are supported by teams including nursing staff, behavioral health consultants, nutritionists, and others who collaborate to provide high-quality care for students.

For more information about the full range of medical services available at Cornell Health, please visit our Medical Care page.