Staff Picture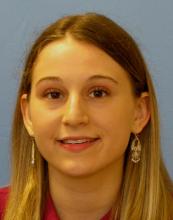 April Campanelli
Degree/Certifications
LMSW
Counselor/Therapist (CHEP)
Pronouns: She/Her
Certifications/Licensure:
Licensed Master Social Worker (LMSW)
Education:
Master of Social Work at New York University
Bachelor of Social Work at Ramapo College
Professional Interests: Eating disorders, depression, anxiety, peer relationships and life stage transitions.
April initially became interested in social work after taking some introductory classes during her undergraduate career and volunteering at a school-based youth services program where she deeply enjoyed working with adolescents, helping them navigate the various challenges of high school. Today, what April enjoys most about counseling is working with clients to understand where they are in the change process and support them in making choices that feel consistent with their individual goals and needs. Prior to working at Cornell, April worked at a higher level of care program for individuals with disordered eating/eating disorders. April has some training and experience in cognitive behavioral and exposure therapies. She thoroughly enjoys coaching students around body image and eating exposures. April has also grown to appreciate mindfulness and tries to incorporate this into her work. Her interests include eating concerns, body image, anxiety, interpersonal relationships, and family dynamics.
Personal interests: Outside of work, April enjoys hiking with her adorable dog, baking and eating cinnamon rolls, and Facetiming with her sister to exchange their latest recommendations around all things books, skin care, and cool clothing finds. April also enjoys scrolling aimlessly through TikTock, laughing at funny dog videos, but never quite understanding how to make her own.
Affiliations
Affiliations
Counseling & Psychological Services (CAPS)
Nutrition
Location
Level 7
Contact Information