Cornell Health – main building
We're located at 110 Ho Plaza, at the corner of Campus Road and College Avenue on Cornell's central campus.
Our front entrance is on Ho Plaza, with additional entrances on Campus Road and beneath our building underpass. The front entrance and underpass entrance are both wheelchair-accessible.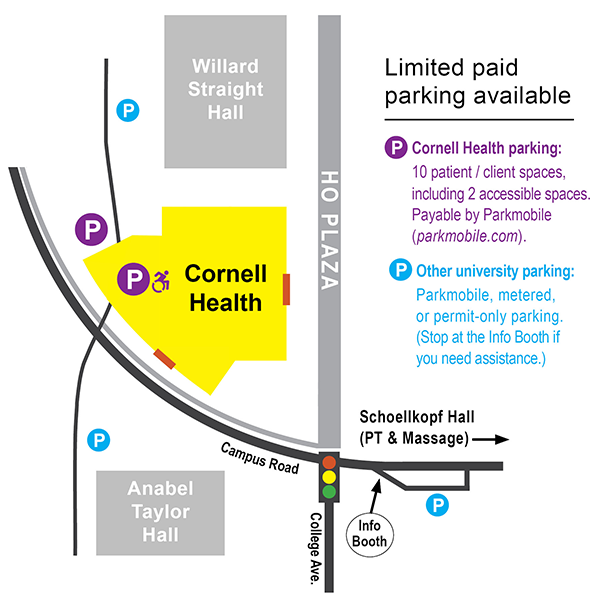 Parking: There are 10 paid parking spaces reserved for Cornell Health patients/clients located beneath our building underpass, and just past the underpass toward Willard Straight Hall. Two are accessible-permit spaces.
Parking and Transportation manages all parking on central campus. The fee is $3/hour (plus a $.35 transaction fee), payable through Parkmobile. (You may also call 877-727-5730 and pay over the phone. If you need a phone, please come inside to the main lobby information desk on Level 4.)
Bus: Check the TCAT website for current bus routes.
Taxi: Students can Bursar-bill taxi rides to or from Cornell Health (or any other medical or mental health care provider) when using Ithaca Dispatch (607-277-7777). Just show your Cornell ID card to the driver, and say "please charge to Cornell Health." When we receive the charge, we'll have it applied to your Bursar bill. (Taxi rides typically cost less than $10 for a one-way trip from a campus location to Cornell Health.)
Cornell Health – Physical Therapy & Massage
Physical Therapy and Massage services are located in Schoellkopf Hall (521 Campus Road) across from Teagle Hall. Our entrance is around the back of the building* (the building's front entrance facing Campus Road leads to Athletics offices).
Parking: There are two metered parking spaces near our entrance* that are first-come, first-served. The meters take quarters only, so please be prepared with change (our office is unable to provide quarters). Additional Parkmobile parking is available in the Hoy Road Parking Garage directly behind our entrance.
Bus: Check the TCAT website for current bus routes.
Taxi: Students can Bursar-bill taxi rides to or from any health care provider when using Ithaca Dispatch (607-277-7777). Just show your Cornell ID card to the driver, and say "please charge to Cornell Health." When we receive the charge, we'll have it applied to your Bursar bill. (Taxi rides typically cost less than $10 for a one-way trip from a campus location to Schoellkopf Hall.)