This page contains helpful information about alcohol, tobacco and e-cigarettes, marijuana, prescription stimulants (e.g., Ritalin, Adderall), molly/ecstasy/MDMA, and heroin.
It also provides information about alcohol and drug use among Cornellians, and harm-reduction strategies for students.
 
Alcohol
Alcohol is the most used drug on college campuses, including Cornell. Despite its common use, the majority of Cornellians drink moderately, or not at all and 66% of incoming first year students are non-drinkers (Alcohol Wise, Fall 2015). Lots of Cornell students know how to be their own buzz (pdf) and party without alcohol. See our Alcohol and other Drugs Initiatives page for more data.
If you drink alcohol, know …
Enjoy the buzz; avoid the risks
If you drink alcohol, try these tips to enjoy the buzz while avoiding the risks and negative consequences.
Before drinking:
Eat! It helps your body will process alcohol more slowly (especially important for female-bodied people, who metabolize alcohol differently than male-bodied people)
Consider ahead of time how drinking may affect your other commitments
Bring safer sex supplies in case you or a friend hooks-up
Have a plan for getting home safely (pdf)
While drinking:
Space and pace your drinking (about one per hour)
Sip drinks; avoid shots, funnels, chugging
Stick to beer(pdf) and avoid mixed drinks
Keep track of what you're drinking and how many (pdf)
Alternate between non-alcoholic and alcoholic drinks
Stick to the buzz (pdf) and take a break so you don't get "sloppy" or "black out" (pdf) (see "the biphasic response," below)
 
 
 
Avoid drinking:
On an empty stomach
If you're taking prescription medications that could affect – or be affected by – alcohol
If you're pregnant or think you may be pregnant
If you're taking prescription medications that could be affected by alcohol
Understanding BAC (blood-alcohol concentration)
Your BAC (Blood-Alcohol Concentration) is determined by milligrams of alcohol per 100 milligrams of blood, usually expressed as a percentage. For example, .10 BAC is 1 part alcohol for every 1,000 parts blood.
An "optimal buzz" is typically experienced when your BAC slowly rises to a level no higher than a .06. A DUI (Driving Under the Influence) in New York State is determined by blowing .08 or higher in a breathalyzer test.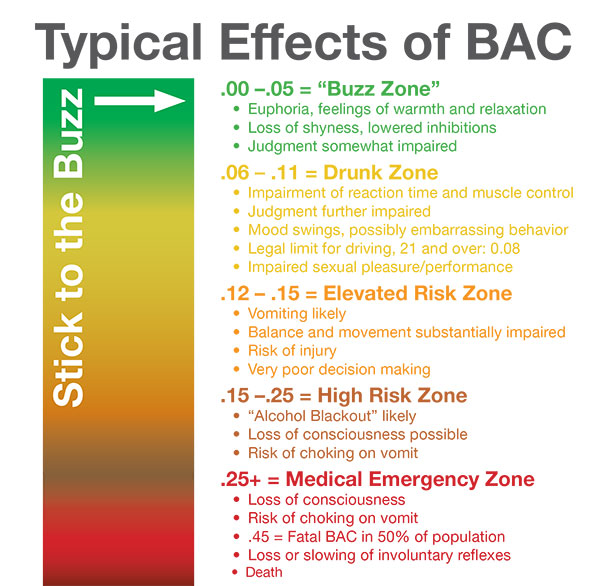 The biphasic (two-phase) response to alcohol
When a person consumes a moderate amount of alcohol slowly, the alcohol produces a mild "up" feeling – or a "buzz." This is what most people are looking for and enjoy when they're drinking.
However, there is a point of diminishing returns when drinking alcohol. The buzz will not get better with more alcohol. In fact, drinking more alcohol at this point can lead to more negative feelings – like fatigue, moodiness, or dysphoria. For most people, the point of diminishing returns happens when their BAC is about .06.
This "up" feeling, followed by a "down" feeling if you drink too much, has been described as the biphasic response to alcohol: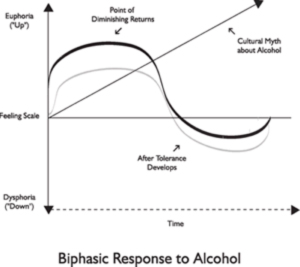 See the tips above ("Enjoy the buzz; avoid the risks" and "Understanding BAC") to learn strategies for enjoying alcohol without passing the point of diminishing returns.
Think you may have a problem?
Please see our Alcohol & Other Drug Services page for information about the individual counseling and support groups we offer, our BASICS program, and the many campus and community resources available to you.
 
Tobacco & e-cigarettes
Tobacco use among college students has decreased significantly over the last 15+ years – especially when smoked in cigarettes or chewed. Use of e-cigarettes, however, is on the rise.
About e-cigarettes
An e-cigarette is a type of electronic nicotine delivery systems (ENDS). ENDS are devices that do not burn or use tobacco leaves but instead vaporize a solution containing nicotine which users then inhale. E-cigarettes come in all shapes, sizes, and colors and heat nicotine-containing cartridges to create a vapor. E-cigarettes have recently gained attention as a potential cessation aid, however research on their safety and efficacy are still needed and therefore they currently are not approved as cessation devices.
If you use tobacco or e-cigarettes …
If you want help quitting …
Meeting with a counselor or a Behavioral Health Consultant at Cornell Health can help you identify strategies and stick to a plan for quitting. We also sell nicotine replacement products (gum and patches) in our pharmacy. There are numerous online tools and apps that can help, as well – we especially like NYS Quitline and Quitnet. The Centers for Disease Control and Prevention (CDC) has a list of additional smoking-cessation resources.
 
Other drugs
The vast majority of Cornell students do not use other drugs. Of the other drugs used by students, marijuana is the most common. In surveys of Cornell students, three percent or fewer report using drugs other than marijuana, alcohol, or tobacco. [see Drug use among Cornell undergraduates (pdf)]
Learn more about …
Marijuana
The effects of marijuana can vary widely, depending on the potency of the drug, any tolerance you may have built up, the location of where it is used (e.g., how safe you feel in that environment), and other factors about how you're feeling at the time of use.
Short-term risks: While you won't overdose on marijuana, short-term risks include impairment to judgment and complex coordination (e.g., driving is NOT recommended), increased heart rate, and other symptoms such as paranoia, mild hallucinations, or anxiety. For people sensitive to the chemical agents sprayed on marijuana plants, use may cause painful migraine headaches. Marijuana can also impair memory and other cognitive functions for up to 48 hours after using.
Long-term risks: There is little evidence to suggest that marijuana causes long-term harm to memory and cognitive functions (effects usually fade about 48 hours after use). However, with continued use, you CAN become dependent on – and addicted to – marijuana. Chronic, heavy use can also damage your lungs. As with any drug, chronic exposure as a child or adolescent could result in changes in your brain since it is developing rapidly during these years.
Prescription stimulants (e.g., Ritalin, Adderall)
Ritalin, Adderall, and other prescription stimulants are "central nervous stimulants" commonly prescribed to help people diagnosed with Attention Deficit / Hyperactivity Disorder (ADHD) focus and concentrate. Nationally, some people without prescriptions take these stimulants in hopes of increasing mental alertness and decreasing fatigue – while studying, or in social settings. (Note that it is illegal to take prescription stimulants without a doctor's prescription.)
Short-term risks: Depending on the dosage, you may find yourself feeling depressed and irritable after the peak effect of the drug has passed. Other side effects include dehydration, hot flashes, nervousness, appetite suppression, stomach pains, palpitations, nausea, heavy sweating, decreased libido, and headaches. Prescription stimulants interact negatively with a number of other substances; if you're experiencing problems after taking a prescription stimulant, seek medical help (you can call us 24/7 at 607-255-5155).
Long-term risks: If misused or abused, prescription stimulants can be addictive, and cause serious withdrawal symptoms when stopped. Potential overdose is also a concern. Other health risks include insomnia, digestive problems, vomiting, irregular heartbeat (cardiac arrhythmia), extremely high blood pressure, allergic reaction, loss of appetite, sexual dysfunction, abnormal behavior, confusion, nervousness, psychotic episodes, and seizures.
Molly / Ecstasy / MDMA
The MDMA in Molly and ecstasy usually produces a mild, euphoric state within 20-40 minutes after ingesting a tablet, with the peak effect occurring 60-90 minutes after. Its stimulant effects can increase your energy and decrease appetite.
Short-term risks: Potential short-term negative effects may include anxiety, confusion, depression, sleep problems, and paranoia. Also, people may experience muscle tension, involuntary teeth clenching, increased heart rate, increased blood pressure, and increased body temperature. Deaths have been associated with this substance, usually as a result of heat stroke. If you decide to use ecstasy, it is important to stay cool and well-hydrated. Ecstasy can also be especially dangerous for people with heart problems.
Long-term risks: Evidence suggests that long-term use or a single high dose can cause a long-term loss of serotonin, an important chemical in the brain that regulates mood. This sort of damage could cause subtle but significant impairment to cognitive abilities, memory, arithmetic calculation, complex attention, and increased impulsiveness.If you have used Molly / ecstasy / MDMA and are worried about any effects you're experiencing, please schedule an appointment with a counselor or medical provider at Cornell Health.
Heroin
Heroin is snorted, smoked, or injected. It can elicit a warm, euphoric feeling – although responses vary depending on dosage, the purity, and your own physical condition. Less than 1 percent of Cornell students report having used heroin, although its use is growing in many parts of the country, including Tompkins County.
Short-term risks: The most serious short-term risk associated with heroin is overdose / sudden death (most common when injected). Other less serious effects can include experiencing nausea, constipation, diminished sex drive, and withdrawal.
Long-term risks: Heroin is highly addictive. Additionally, injecting heroin is linked with infections (like hepatitis, HIV, or blood poisoning) and abscesses. The Harm Reduction Coalition offers reliable, unbiased information about heroin.
If you inject heroin: It's important to use a sharp, sterile syringe, clean works, and fresh sterile water. If possible, use a fresh needle every time. Avoid sharing needles with others. If you don't have new needles, go to an exchange: Ithaca hosts the only rural syringe exchange in New York. If you have your own needles, be sure to dispose of them safely (see information about "Disposing of medications & sharps" on our Pharmacy page).
If you want help cutting back or quitting …
Please see our Alcohol & Other Drug Services page for information about the individual counseling and support groups we offer, and the many campus and community resources available to you.