STIs are on the rise on campus: use protection & get tested
According to Cornell Health's Director of Women's and Sexual Health Services, sexually transmitted infections (STIs) are on the rise at Cornell. (This is true on other campuses and in larger metropolitan areas, too.) Students of many genders and sexual orientations have been affected; those who use hook-up apps to facilitate connections with sexual partners are especially vulnerable. 
Be Sex Smart: You usually can not "tell by looking" if someone is infected with an STI. Symptoms may not be present. 
Use Protection: Unprotected oral, anal, and vaginal sex can spread STIs. Safer sex products (condoms, lubes, etc.) are available in our pharmacy. 
Get Tested: STIs can cause infertility and other long-term health problems if not diagnosed and treated early. 
Share this poster ...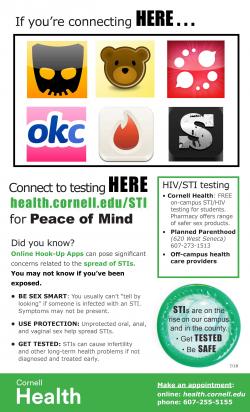 View the "Peace of Mind" poster (pdf)
Sexual Health & STIs bulletin board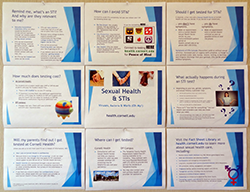 Gender, Sexuality, and Pleasure
Bulletin board materials