Staff Picture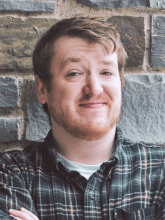 Jacob Parker Carver
Degree/Certifications
LMSW
Alcohol and Other Drug Services Coordinator, Counselor/Therapist
Pronouns: He/Him/His
Certifications/Degrees/Licensure:    
Licensed Master Social Worker
NYS Certified Peer Specialist
Mental Health First Aid Instructor
Wellness Recovery Action Plan Instructor
Recovery Coach Academy Instructor
Education:    
Master of Social Work from Binghamton University
Bachelor of Science in Cinematography from Ithaca College
Professional interests:
Jacob understands that students are at a stage in their lives when they are going through numerous major transitions. They are exploring their identities, their values, their passions, and developing plans for their futures. Jacob is grateful for the privilege to be a touch stone for students during this exciting and often intense period.
Jacob's first career goal was to be a big shot movie director in Hollywood. While he was studying Cinema Production at Ithaca College, a professor told him to "go out and find some stories worth telling". After graduation he moved to Shanghai, China where he taught ESL for almost 5 years. He returned to the US in 2014 and started working in the mental health field. After gradually coming to terms with his own long history of anxiety and substance use, he made the life-changing decision to stop using alcohol and other drugs in 2016, then to pursue a Master of Social Work from Binghamton University specializing in the treatment of co-occurring mental health and substance use issues. During graduate school he worked as a Crisis Counselor for Suicide Prevention & Crisis Services, and more recently he was a Chemical Dependency Clinician at the Alcohol & Drug Council before coming to Cornell in 2021.
Jacob enjoys working with people from all over the world, representing a wide range of cultures and identities. His therapy sessions incorporate elements of Motivational Interviewing (MI), Accelerated Experiential Dynamic Psychotherapy (AEDP) and Mindfulness-Based Cognitive Therapy (MBCT) to create a secure environment promoting authenticity, compassion, and empowerment. He has yet to direct any blockbusters, but every day he gets to hear incredible stories of how strange, complicated, and beautiful it is to be human.
Personal interests:
Jacob is a hugely nerdy social justice warrior who loves cats and has traveled to 17 countries. You are likely to spot him reading and sipping tea at the Alley Cat Café, drooling over new board games at Comics for Collectors, waving a sign at protests/rallies downtown or paddling around Cayuga Lake in his new kayak. Talk to him about your Dungeons & Dragons campaign, your last vacation, the pet that keeps popping into your zoom sessions, or the causes that light a fire under you. He believes this world is a fascinating place, and there is a lot to get excited about!
Affiliations
Affiliations
BASICS
Counseling & Psychological Services (CAPS)
Location
Level 3
Contact Information