Staff Picture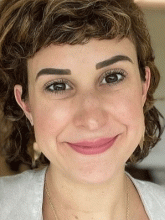 Juliana Garcia
Degree/Certifications
LMSW
Community Liaison for Latinx Students, Counselor/Therapist
Certifications/Degrees/Licensure:    
Education:    
Cornell University, BS
Binghamton University, MSW
Professional interests:
Juliana enjoys meeting students where they are most comfortable in order to build genuine connections which is why she values the outreach aspect of the community liaison role. She brings her lived experience as an alumna of Cornell's ILR school to better serve students and understand the challenges they face. She seeks to work collaboratively with students as they navigate this new chapter in their life and find the tools they need to not just cope but thrive.
Juliana has a particular interest in taking a decolonial approach to mental health which for her means providing culturally affirming practices and understanding that mental health is greatly impacted by intersecting oppressions. She utilizes various approaches in her work with clients including Cognitive Behavioral Therapy (CBT), Eye Movement Desensitization and Reprocessing (EMDR), Dialectical Behavioral Therapy (DBT), Solutions-Focused Brief Therapy, Mindfulness-Based Therapy, Trauma-Responsive Care, and Client-Centered Therapy.
Personal interests:
Juliana has a passion for roller skating. When she is not playing roller derby with the Ithaca League of Women Rollers, she is at one of the Ithaca Pop Up Roller Discos skating with old and new friends. She loves building community with others through various means (dance, art, conversation, mutual aid, play) because she believes having a community of care is integral for one's mental health and wellbeing. She also loves a good book, particularly nonfiction, and will always talk to others about their or her latest reads.
Affiliations
Affiliations
Community Liaison
Community-Based Services
Counseling & Psychological Services (CAPS)
Let's Talk
Location
Level 3
Contact Information