Staff Picture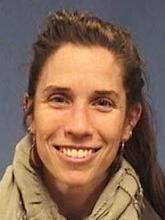 Katherine Goldberg
Degree/Certifications
DVM, LMSW
Community Consultation and Intervention Specialist, Counselor/Therapist
Education:
Syracuse University, Master of Social Work
Cornell University, Doctor of Veterinary Medicine
Wesleyan University, Bachelor of Arts
Katherine brings a unique set of skills and experiences to Cornell Health. A dual professional veterinarian and social worker, Katherine pursued her LMSW at Syracuse University after recognizing the significant human needs that arise in medical environments – for both family members of seriously ill patients, and medical team members themselves. Perhaps it should not have been a surprise that this winding professional path would unfold, as Katherine graduated in 1999 from Wesleyan University's Science In Society Program – an interdisciplinary exploration of philosophy, science, technology and ethics. Always looking for unique ways in which complicated and emotionally-charged issues intersect, Katherine engaged in veterinary medicine with an eye towards ethical dilemmas, supporting complex human-animal relationships, addressing veterinary needs in underserved communities, and exploring the rigors of medical training for students. A 2004 graduate of Cornell's College of Veterinary Medicine, she has been instrumental in developing the field of palliative medicine in veterinary environments. Concerns related to wellbeing characteristics within the veterinary profession also motivated Katherine to further develop her skills and knowledge in the areas of pre-professional, graduate, and professional student support.
She has a particular interest in the impact of professional culture on mental health, graduate student wellbeing, and preparing students for the stressors of professional life. Additional interests include moral stress, compassion fatigue, grief, loss & bereavement, the impact of serious illness on family dynamics, mindfulness, upstream initiatives for community health, and animal-related issues in human service organizations. She is grateful to have found a "home" in the social work profession, where social justice and the dignity and worth of each individual are core values.
Katherine supports her own wellbeing with a combination of endurance sport and homesteading. She can be found training for triathlons, tending to livestock, or tapping maple trees, depending on the season.
Affiliations
Affiliations
Community Consultation & Intervention (CCI)
Community-Based Services
Counseling & Psychological Services (CAPS)
Location
Level 3
Contact Information