Staff Picture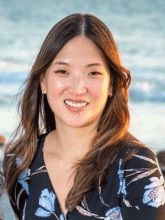 Abigail Dubovi
Degree/Certifications
PhD
Mental Health Promotion Program Coordinator
Education:
PhD, Counseling Psychology, University at Albany
BA, Psychology, Ithaca College
AS, Social Science, Tompkins Cortland Community College
Abigail enjoys working with diverse college students in teaching, clinical, and advising capacities, with a particular interest in applying health models to promote positive campus change. She views the college experience as a uniquely hopeful developmental period that carries tremendous potential for sparking change at the individual, group and environmental level.
Abigail is passionate about translating research into practice as a means of addressing societal power asymmetries, including physical and mental health disparities. Her research interests include implicit bias, gender and racial identity/inequality, and health psychology.
In her spare time, Abigail enjoys jogging, Zumba, binge-watching TV, and spending time with family and friends.
Pronouns: She/her/hers
Affiliations
Affiliations
Skorton Center for Health Initiatives
Location
Level 6
Contact Information