Staff Picture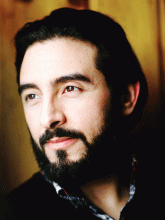 Lex Enrico Santí
Degree/Certifications
LCSW
Counselor/Therapist
Pronouns: He/Him
Certifications/Degrees/Licensure:    
MFA
MSW
LMSW
LCSW
Certified yoga instructor
Education:    
Hobart and William Smith
George Mason University
Washington University in Saint Louis
Can provide assistance in the following languages: Romanian and Spanish
Professional interests:
Lex loves talking about transitions in someone's life. He believes the great changes in one's life, be they relationships, going to college, or discovering new love and passions and the tensions that arise with the old and new self; is the curriculum of life. When someone experiences the challenge of how this self-awareness comes into conflict with the world around them, that is the perfect opportunity for self-work of therapy to emerge and assist in their life.
Becoming a therapist was something Lex never really planned on doing, but rather he has always loved helping others. After a long and successful career in higher education and international work, he decided he needed to do more one-on-one work helping others and earned his LMSW in 2014 and has been practicing in the community since 2017.
He brings a background that is quite varied: from hitchhiking with Romanian gangsters, working with street children, teaching English in Spain and South Korea, publishing poetry; to working at in the government and doing risk management. Because of his varied background, he reports that his speciality as a therapist is quite diffuse: he likes to meet his clients with what they need. That may mean CBT, IFS or mindfulness but most important, giving room for their story and does not hold onto any predetermined model of what a client "needs."
Personal interests:
Lex is a writer by trade and passion, specifically poetry and short stories. He loves photography and capturing moments that perhaps no one else is seeing and then disappears. He dedicates his free time to teaching Yin Yoga. Mind/body wellness is very important to him, as is the CrossFit community. Lex has lived in Romania, Spain, South Korea, Saint Louis, NYC and DC and has traveled the world over many times. But most of all; he loves spending time with his partner and his son.
Affiliations
Affiliations
Counseling & Psychological Services (CAPS)
Let's Talk
Location
Level 7
Contact Information