Staff Picture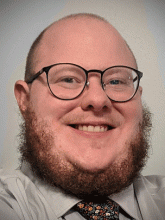 Aden Cook
Degree/Certifications
PsyD
Post-doctoral Resident
Certifications/Degrees/Licensure:    
Doctor of Clinical Psychology (PsyD)
Master of Arts in Clinical Psychology (MA)
Education:
PsyD and MA in Clinical Psychology: Medaille College, 2021
BA in Psychology, Jewish Studies: State University of New York at Buffalo, 2014
Professional interests: Gender Identity, LGBTQA+ concerns, Trauma-informed care, Multicultural therapy, Mindfulness, Geek Therapy.
Aden Cook, PsyD believes that everyone is unique and that there are no 'one size fits all' when it comes to mental health. He uses an integrative approach to therapy in which he works collaboratively with his clients to find which interventions are best suited to meet individual needs. Aden earned his Master of Arts in Clinical Psychology and Doctor of Clinical Psychology from Medaille College in Buffalo, New York. His has a variety of training experiences including an APA-Accredited internship at the Buffalo Psychiatric Center where he served a diverse population of individuals with a number of complex psychiatric presentations and trauma experiences. In addition, Aden has worked in academic, forensic, and private practice settings.
Aden's clinical interests include gender and sexual identities, the intersection of identities, transgender healthcare, and integrating mindfulness, nature, and tabletop roleplaying games (like Dungeons and Dragons) into therapy.
Personal interests: Aden's hobbies include spending time with his wife and fur-children (Ella and Beau), playing and listening to music, being in nature, cooking, and playing video games and Dungeons and Dragons.
Preferred pronouns: He/His
Affiliations
Affiliations
Counseling & Psychological Services (CAPS)
Location
Level 3
Contact Information