Staff Picture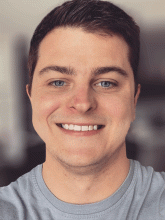 David "Alec" Wierzbicki
Degree/Certifications
PsyD
Counselor/Therapist
Pronouns: He/Him
Certifications/Degrees/Licensure:    
Doctor of Clinical Psychology (PsyD)
Master of Arts in Clinical Psychology (MA)
Education:    
PsyD and MA in Clinical Psychology: Indiana University of Pennsylvania
BA in Psychology, Philosophy: Duke University
Professional interests:  Existential therapy, Student-athlete mental health, Body positivity, Mindfulness and meditation, Psychodynamic therapy, Dialectical behavior therapy, Autobiographical memory, Forensic psychology
Alec enjoys working collaboratively with students to understand their experiences and explore how they are meaningful to them. He focuses on providing emotional support and interventions that are aligned with their individual needs and goals.
Alec earned his Master of Arts in Clinical Psychology and Doctor of Clinical Psychology from Indiana University of Pennsylvania. He has worked in a variety of university health settings including completing an APA-Accredited internship at the University of Connecticut and Post-doctoral fellowship at the University of Rochester. He also has experience working with forensic populations in a private-practice setting.
Alec is interested in the anxiety and stress management for student-athletes, perfectionism, body positivity and self-concept, mindfulness, and the role autobiographical memory and identity in working with traumatic experiences.
Personal interests: When away from work, Alec enjoys movies, books, and video games, especially those related to fantasy or history. His hobbies include walking or hiking in nature, exploring local food, photography, playing and listening to music, and writing poetry.
Affiliations
Affiliations
Counseling & Psychological Services (CAPS)
Location
Level 5
Contact Information