Staff Picture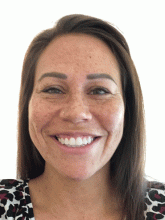 Wahieñhawi "Hawi" Hall
Degree/Certifications
LCSW
Assistant Director of Counseling & Psychological Services – Equity & Inclusion; Community Liaison for Indigenous Students; Counselor/Therapist
Education:
Bachelor of Arts (with a focus on Psychology) from Guilford College
Master of Social Work, Syracuse University
Professional interests:
Hawi thoroughly enjoys the privilege of being entrusted to hold an emotional space with individuals, where safety can be established, healing facilitated, and growth fostered. Her experience is primarily with Indigenous communities, working as a therapist, liaison, and prevention educator. She has recently found great joy in conducting workshops, trainings, and partnering with collaborating agencies to enhance knowledge of mental health issues and to decrease stigma.
Hawi's areas of interest include alternate methods to healing apart from Western Talk therapy, and she strives to use a holistic approach to facilitating an individual's healing journey. She thoroughly enjoys utilizing strength-based approaches to assisting in the therapeutic journey with individuals. She has had trainings in adolescent grief, trauma (specific to Indigenous populations as well as the general population), and several trainings over the years specific to ADHD, disruptive behaviors, anxiety and depression. 
Personal interests:
Having grown up immersed in her Onkwehonwe ("the Original People") culture, Hawi has an intrinsic respect and appreciation for the interconnectedness that her people have with Creation. As a result, she finds that her "happy place" is outside surrounded by Creation - whether it be in the woods, by the water, or just sitting under a tree. She is very proud of her family and all of her free time is spent engaged in family activities, such as hiking, sports, and going to the park. She is an avid softball player, and has played on recreational as well as collegiate levels during her lifetime.
Hawi's perspective and approach to life is based on the belief that the day that we stop growing spiritually, emotionally and mentally, is the day that we leave this Earth. Until that day arrives, she believes it is her responsibility to continue to evolve and be a beacon of Light and Love.
Affiliations
Affiliations
Community Liaison
Community-Based Services
Counseling & Psychological Services (CAPS)
Let's Talk
Location
Level 3
Contact Information