Staff Picture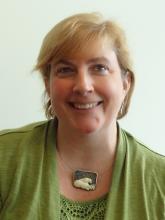 Jennifer E. Austin
Degree/Certifications
MPH
Director of Communications, Assistant Director of Administrative Services
Education:
Masters in Public Health (MPH): University of Michigan School of Public Health
BA in Cultural Anthropology and Environmental Studies: Oberlin College
Professional interests:
Jennifer's educational pursuits fueled her curiosity about the ways in which humans across the globe address common health-related challenges, and the impact humans have on the planet. Before becoming communications director, Jennifer was a health communications specialist at Cornell Health for many years. Her professional history also includes work as a researcher, education & outreach worker, clinical counselor, and massage therapist. She has worked to address a variety of complex campus health challenges (e.g., sexual health, hazing, AOD, mental health, and equitable access to care) since coming to Cornell in 2000. 
Personal interests: 
Having lived primarily in the rural areas of New York, Ohio, Maine, Michigan, and California, Jennifer feels most relaxed and happy in nature. She loves exploring the creeks and swimming holes around Ithaca and tide pools along coastal shores. When living in Northern California, she served as a docent/guide in the old growth redwoods. Jennifer likes to travel, write, experiment with graphic design, and try new culinary experiences. She is the co-parent of an adventurous teenager who challenges her to improve her ice skating and downhill skiing (both of which she finds invigorating and also terrifying).   
Affiliations
Affiliations
Administration (Senior)
Administrative Services
Communications
Patient Advocate
Location
Level 6
Contact Information