Below is a list of health-related programming the staff members in the Skorton Center for Health Initiatives and campus partners offer to student groups. We are happy to tailor the content to the needs of your group. 
Bystander Intervention Programming:
Intervene
This interactive workshop uses an award winning, evidence-based film that portrays student bystanders successfully intervening in seven distinct problematic situations: sexual assault, sexual harassment, intimate partner violence (emotional abuse), racial bias, an alcohol emergency, emotional distress, and hazing.
The film demonstrates a variety of intervention skills including communicating directly with the person causing the problem or the person in need of assistance, creating a diversion or a distraction to change the situation, or calling upon others (students, staff, emergency personnel, etc.) for additional support and assistance.
Following the video, a facilitated conversation allows student to reflect upon specific attitudes and behaviors that influence the process of intervening as an individual or with assistance from others. Power dynamics, cultural considerations, authentic communication strategies are examined to increase the likelihood of successfully intervening in a variety of situations that college students may encounter.  
Workshops can range in time from 60–75 minutes depending on your group's needs. Contact lbs65@cornell.edu to request this program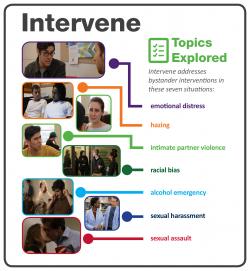 View a larger version of this image (CU NetID required)
Notice & Respond: Friend 2 Friend
This interactive bystander education program teaches students:
how to identify signs that might indicate that a friend is struggling emotionally
how to effectively talk about it with them, and
where to find assistance and support for various situations.
Using a realistic filmed scenario, facilitated discussion, and a review of campus resources, students are given tools and information to help them take care of themselves and to keep their friends safe and healthy. Participants also discuss common concerns that may prevent students from reaching out to others. Workshops can range in time from 60–90 minutes depending on your group's needs. Contact ct265@cornell.edu to request this program. 
View the video trailer:
Resilience-Based Programming
Let's CU Sleep
Want to get better sleep? Sleep is a conditioned behavior that you can learn to improve using the quick tips presented in this interactive workshop. Developed by Cornell students, this 30- to 50-minute workshop explores the science of sleep, Cornell's sleep culture, and practical resources. Contact ct265@cornell.edu to request this program.
Life Hacks: College Edition
Online course for Fall 2020; open to all Cornell community members
Takes approximately 60 minutes or less
College is a time of many new experiences including academic, social and personal ones. "Life Hacks: College Edition" is designed to provide you with information on a variety of tips, tools, and resources to help you develop strategies and habits to support your overall mental health and well-being in order to successfully navigate your time at Cornell.
This online program was developed specifically for the Fall 2020 semester and the realities of living during the COVID-19 pandemic, the resulting economic downturn, and the systemic racism embedded in American society being addressed directly now.
It is important to recognize that stress is a part of life, not all stress is bad, and that the goal is to learn to manage stress well by using the strategies summarized in the program's Resilience Pyramid. Utilizing several modalities, including  narrated powerpoint slides, short videos, and ungraded quizzes emphasizing learning points, students will delve into daily health practices, opportunities to make social connections, and self-reflection techniques to guide time management and promote growth mindset thinking, meaning-making, and finding purpose. In addition to highlighting some of the particular challenges inherent to the college student experience, the differential experiences of BIPOC (Black, Indigenous, People Of Color) are acknowledged and considered in the suggested strategies and practices to help keep stress in check, find a sense of belonging, and journey toward one's purpose. 
  > Enroll in and take this Canvas course now
Mindfulness Meditation 
Cultivating a practice of mindfulness is a smart investment in your career, your health, and your overall happiness.Those who meditate seem to feel better, do better, and find the practice sustains them in their academic, personal and professional lives. Read more about Mindfulness Meditation. This workshop is 30 minutes long. Contact ct265@cornell.edu or ea374@cornell.edu to request this program.
Sexual Violence Prevention Programming
Preventing Sexual Violence
Interactive discussions are tailored for groups requesting programs on sexual violence, dating violence, domestic violence, and/or stalking. Students are given tools and information to help them understand definitions, available resources, how to be an active bystander, and how to respond to a friend who has shared an experience of abuse or violence. Contact lbw26@cornell.edu to request this program