Staff Picture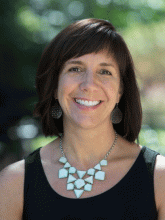 Julie Edwards
Degree/Certifications
MHA
Director, Skorton Center for Health Initiatives
Education:
Bachelors of Arts (BA) in Communications, Iowa Wesleyan College
Masters of Health Administration (MHA), University of St. Francis
Doctorate of Education-Educational Leadership (Ed.D.), University of St. Francis, expected 2023
Professional interests:
Julie is passionate about public health and all it entails, from assessing the needs of communities to implementing evidence-informed strategies to evaluating the impact on overall populations. Julie enjoys bringing diverse people together to work towards shared goals and she thrives when collaborating with others. She feel systems-level work is critical to support campus well-being and looks forward to how Cornell can lead this work in the future of our field.                

Personal interests:
Spending quality time with her family is something that fills Julie's cup and she tries to make every effort to savor the moments they have together. She and her husband, Courtney have four grown children and plan to travel more in the future. Julie likes to exercise and switch things up between running, HIIT training, and walking her two rescue dogs, Riley and Rocky. Julie also really loves to cook and is always looking for new recipes to try.
Affiliations
Affiliations
Administration (Senior)
Patient Advocate
Skorton Center for Health Initiatives
Location
Level 6
Contact Information