Staff Picture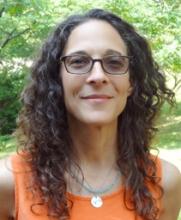 Eve Abrams
Degree/Certifications
LCSW-R
Assistant Director for Training and Group Therapy
Eve is a Licensed Clinical Social Worker. She graduated first with a BA in philosophy, religion and sociology in 1990 from Ithaca college. Her studies included a semester abroad studying death and dying in India. Upon her return, she decided to make Ithaca her home.

She received her master's in social work degree from SUNY Binghamton after a yearlong internship in community mental health and a year internship working with end of life issues in a continuing care senior community. Eve began her work in college counseling shortly after her graduation in 2006. A focus of her current work has been to assist the client in building self-regulation-- addressing self-esteem, behavior, and connections to self and others. These skills and habits empower students for better coping with emotional or physical distress in daily life, offering a sense of being more able to manage what has felt unmanageable.

Eve's practice is centered in strength-based, solution-focused work utilizing:
 - Relational and feminist perspectives
 - Practices and understandings from mindfulness, trauma and neurobiology as well as attachment research. 
 
She has a keen interest in how our bodies interpret traumatic memory. She has completed advanced training in mindfulness and trauma sensitive psychotherapy, and continues to pursue the application of these approaches for a variety of mental health issues. She is also a certified EMDR practitioner.
Eve's personal interests include Buddhism, hiking mountains and adventuring in nature, gardening, cooking, listening and learning about music.
Affiliations
Affiliations
Counseling & Psychological Services (CAPS)
Patient Advocate
Location
Level 3
Contact Information