Staff Picture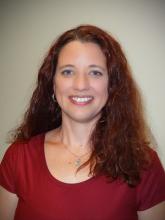 Kimberly VanNorman
Degree/Certifications
LMSW
Community Liaison for LGBTQ+ Students, Counselor/Therapist
Pronouns: She/her/hers
Certifications/Degrees/Licensure:    
Licensed Master Social Worker, NYS
Education:    
B.A. in Women's Studies from Wells College
M.A. in Social Work from SUNY Binghamton
Professional interests:
Kim values working with college students, and enjoys the privilege of being able to support students during such an important time in their life. Kim works with clients to identify their goals, resources, skillsets, and areas where they'd like to grow and learn more about themselves. She values the therapeutic relationship that evolves with each client while navigating the therapy process together. She utilizes a variety of approaches and skills when supporting her clients. She has a background in Solution-Focused Therapy, Dialectical Behavioral Therapy, and the use of mindfulness/meditation as strategies to support the therapeutic process. She often shares resources/tools for students to use between sessions.
Kim has a passion for supporting individuals who identify as LGBTQ+ and is the CAPS LGBTQ+ Liaison on campus. She has spent many years advocating for the LGBTQ+ community, and is proud to be able to support Cornell students as they navigate issues related to sexuality and gender identity. She is a member of the Gender Services Coalition and also participates in a national groups related to LGBTQ+ student mental health. She co-facilitates one of the CAPS LGBTQ+ support groups. Kim also enjoys supporting students on the Autism Spectrum and has facilitated an Autism Spectrum group at CAPS for several years (this group is now supported by SDS and the LSC).
Personal interests:
Kim has lived in Ithaca for over 20 years, having come to the area to attend college. She fell in love with all that Ithaca has to offer, especially activities such as hiking, kayaking, swimming, and taking her kid to the playgrounds. Kim has a deep love of all animals, having grown up on a dairy farm. She currently has two big dogs and some fish. She's played many sports over the years, including softball in college, and values the life lessons learned from being engaged in team sports.
Affiliations
Affiliations
Community Liaison
Community-Based Services
Counseling & Psychological Services (CAPS)
Let's Talk
Location
Level 5
Contact Information